Featured Testimonies from Successful Graduates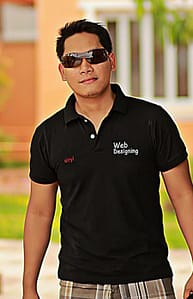 Airyl Laurie
The best thing that ASHTEC did for me was introduce Jesus to me who I learned to accept as my lord and personal savior.
ASHTEC provided work for me from their contact companies and using the skills and knowledge that I have learned, I stayed at the company for a year. Aiming for greater success, I applied to several other companies and two years later, I became the Senior Web Designer of Molave Internet Solutions.
Looking back to my previous life, it was really amazing how God have changed it. Now, I understand why I had a difficult life. It was so that I could see how colorful it was meant to be.
God really made a way for me when there seemed to be no way.
Gina Magallanes
I was able to study at ASHTEC because my mother was a member of CCT which eventually led me to becoming a sponsored child of a CCT project. The day came when I had to go out of ASHTEC for our OJT and I was one of the first students to be placed in Picture City as a Customer Service Provider in SM Sta. Rosa.
Today, I am able to help my family financially and send my siblings to school; one of them will be graduating from college. All I can say is that in everything you do and in every situation you are in, don't lose your confidence in yourself. God Bless!
Marvin P. Guzman
Being a student of ASHTEC was a very challenging experience. There were strict rules to be followed, household chores to perform, and lots of Spiritual activities to attend. But these challenges helped me to become a better person. It taught me to be a responsible, competitive, and God-fearing person.
Today, I've been working for Lexmark as a Firmware Test Engineer for almost 2 years already. I thank God for all the blessings and guidance He had showered over me and for creating ASHTEC who have helped me achieve my dreams.
The following students need your support to finish their courses